About Us
Welcome to POI BOY Catering and Events. Owned and operated since 2008, we started with backyard style Hawaiian Luaus for family and friends and have now grown into a full service catering and event planning company.
Whether you are planning your annual company picnic, a formal wedding, anniversary or birthday celebration, we will plan and coordinate all the elements of your event, from entertainment and rentals to customizing a menu that works within your budgets and suits your specific needs.
Meet the Chef!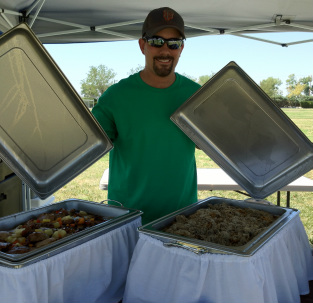 Hi! I'm Bobby Kirn and I'm the chef here at POI BOY Catering and Events.
From early on in my life, I've always had an interest in cooking. I come from a large family and good food always played an important part. From camping trip meals to full family luau's, cooking always brought my family together in unforgettable ways. My family is very diverse in the fact that part is from Hawai'i and part is from the Northern Nevada area. And from this diversity comes variations of food and recipes that are beyond tasty and are most definitely considered true, family recipes.
In regards to my cooking education, I attended Golden State Culinary Institute in Sacramento, CA and received my degree in culinary arts in 2001. I completed my apprenticeship inside Harrah's Reno. From there, and for the next 7 years, I worked in a variety of notable restaurants in the Reno area including Cafe Andriotte's, Harrah's Steak House, and Murrieta's Restaurant and Cantina. Although I thoroughly enjoyed my restaurant cooking experiences, having my own catering business had always been my dream. Meeting with people to discuss how to incorporate their specific tastes and individual styles into my food is what drives me. In 2005, while still working in Harrah's Steak House, I followed my dream and POI BOY Catering and Events was born. However, it wasn't until 2008 that I was able to focus solely on POI BOY. Today, I am very proud to say that POI BOY Catering and Events is busier than ever before!
Thanks so much for checking into POI BOY. I'm looking forward to working with you!
Our Beliefs
Our company is based on the belief that our customers' needs are of the utmost importance. Our entire team is committed to meeting those needs. We are proud to say a high percentage of our business is from repeat customers and referrals.
We would welcome the opportunity to earn your trust and deliver you the best service in the industry.